While running through his neighborhood a jogger suddenly found himself at the head of a convoy. Turning around he realized that a mother dog and her baby, who was desperately trying to keep up, had joined him for some exercise. Baby got a ride the rest of the way home, and the jogger and his family made Meadow and her baby welcome.
The puppy was about 17 weeks old, and cute as a button, so it didn't take long to find the little one a new home. However, because there are already so many animals in Meadow's rescuer's home they are looking to find Meadow a home of her own.
Meadow gets along beautifully with a female bull terrier in her foster home. Meadow has been formally introduced to the 2 male dogs in her foster home, but hasn't run free with them yet. There didn't seem to be any problems.
Meadow's ideal home will need a VERY secure backyard. Because of her hunting blood she tends to want to run/roam. Meadow loves to walk/run, and will need to be walked EVERY day. She does not pull on the leash when walked, and will go where you want to go (unlike the bull terriers in the foster home who want to go where they want to go).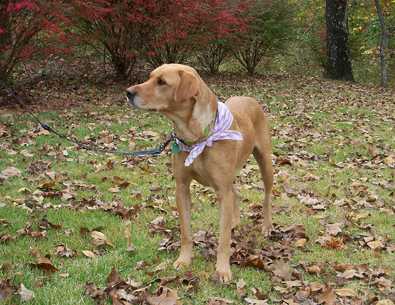 Meadow's rescuers do not have any children so they're unsure how she'll do where kids are concerned, but with Meadow's mild temperament it's not expected to be a problem.
There is also an outdoor cat in Meadow's foster home, and so far Meadow will bark at her playfully but then goes out of her way to avoid her.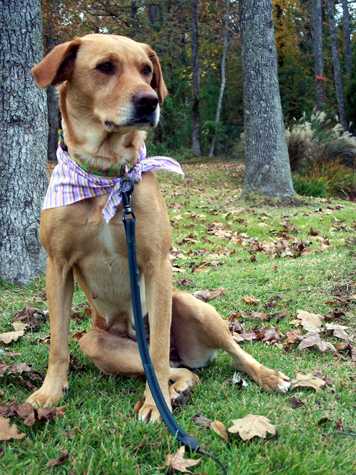 Meadow has been very mild mannered, and maybe even a little timid. Her rescuers feel certain that this is just because she's unsure about what's going on. She rarely barks, and is quiet. She is not food aggressive. Meadow will go to do the door when she needs to go out to potty, and she rides really well in a car.
Meadow loves to go for a walk/run. She loves to curl up and let you pet on her. Normally she'll just lay by the couch or bed --she'll follow you everywhere you go. She runs very fast when chasing a ball in the backyard, and is very attentive to squirrels. She'll even "point" occasionally.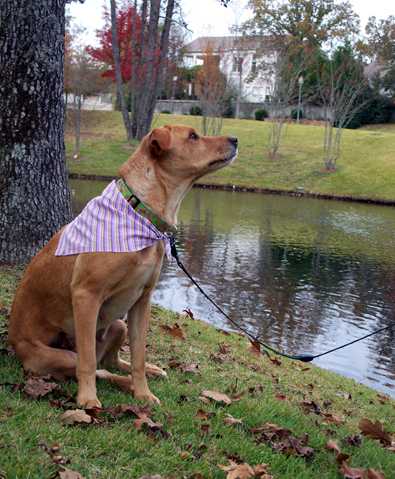 Meadow's foster parents have been trying to crate train her since they've had her. She did very well in a crate when she had her puppy in a crate next to her. However when her baby went to it's new home, and Meadow was left alone she decided she didn't like the crate anymore. Her foster parents have continued working with her going in the crate for just very short periods, but it's not a place she enjoys.
Meadow is very athletic, and light on her feet. When she chases her ball she'll bounce after it -- like a deer. Even when getting excited in the backyard playing she will not jump on you.
Meadow has been to the veterinarian. She has been given a clean bill of health, and she has been given all her shots (she is heart worm negative). She is approx 2 years old, and 45 lbs. Best guess is that she is a Lab/Pointer mix. She is a beautiful fawn color. She is a little on the skinny side right now, but she's eagerly cooperating on putting some weight on her bones. She is already housebroken, and rides in the car very well. So far, she's gotten along beautifully with the other animals. She is a dream!!!!! Meadow is very quiet, and does not jump up on visitors. She loves curling up beside you and soaking up the love and attention. Meadow has NOT been spayed but arrangements WILL be made to have this done before she goes to her forever home.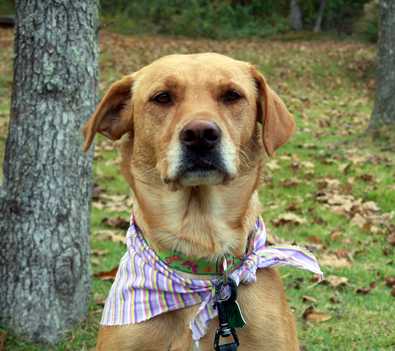 Meadow will make someone an ideal pet. She's very well behaved and deserves to go to a home where someone really has the time to give her the attention she (and all dogs) need. Meadow is NOT a "special needs" dog but does deserve to go to only the very best home. You can tell she's very grateful!!!
Meadow is an independent rescue and will not be available at the DogsOnly adoption showings at the Little Rock on . If you would like to know more about Meadow you are invited to complete an online adoption application by clicking the orange colored text links at the top or bottom of this page or contact Meadow's rescuers and foster directly at janejones67@comcast.net
If you don't find that special companion you are looking for in the DogsOnly rescue, rehabilitation, and re-home program then please visit Little Rock Animal Services, North Little Rock Animal Services, Sherwood Humane Animal Services, or one of the many other central Arkansas rescue organizations to save a rescued canine companion.