Teddy is a young Labrador Retriever Great Pyrenees mix. Teddy is coy and will charm you with side glances and longing gazes with his beautiful amber eyes.
Teddy was found as a stray by a good Samaritan who already has a house filled to capacity with rescued canine companions. In fairness to Teddy and the other dogs, the best thing to do is to help Teddy find a new home where he can get all the love and attention he deserves.
Teddy is described as sweet and very affectionate, although a little sensitive. He loves attention, gets along well with the dogs, but likes the company of people just as much. He's not aggressive but kind of on the mellow side. Watch out for those longing gazes and cute side glances, you'll end up spoiling him.
A home with another dog close to his size and age would be a good option, especially with friends who will be able to spend time with him and give him the attention he loves. Teddy is a large boy destined to get even bigger, so he's going to need a yard to run around in.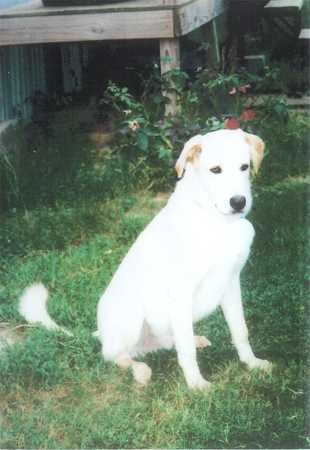 Teddy licks a lot, so be prepared to get your face washed. He loves his toys and always has his rope or a soft toy in his mouth when he's happy or excited. He likes being in the house with his rescuer and family just as much as being outside playing. He loves another male lab in the home called Smiley who is about 2 1/2 to 3 years old. Teddy thinks Smiley is his buddy and he follows Smiley around like… well, like a puppy!
Teddy loves to show you his toys. He likes to play pull rope with the dogs and wrestle and romp with them. Teddy is a good sport.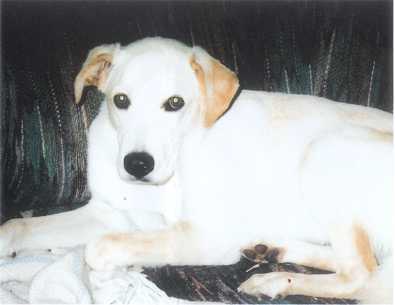 Teddy would also make a great canine companion to someone who didn't have any other dogs, and could lavish a lot of attention and time on him. He's very affectionate and craves attention, maybe because he's still a puppy. He seems to want to be the #1 dog with people.
Teddy is around 10 months old and is an independent rescue, so he will not be available to meet at the DogsOnly adoption showings at the west Little Rock on across from Target and Home Depot every Sat and Sun from 1:00 PM to 4:00 PM. If you would like to learn more about this charming companion you should send an email to his rescuer at rita5z@aol.com
Teddy has received a complete medical evaluation, all shots, rabies, fecal and worming medication, flea/tick preventative, heartworm preventative, micro-chipping, grooming, and has been altered. You can complete an online adoption application by clicking the orange colored text links at the top or bottom of this page.
If you don't find that special companion you are looking for in the DogsOnly rescue, rehabilitation, and re-home program then please visit Little Rock Animal Services, North Little Rock Animal Services, Sherwood Humane Animal Services, or one of the many other central Arkansas rescue organizations to save a rescued canine companion.