Bubba is a charming little shepherd mix pup, who suddenly showed up on the doorstep of "The Dog Lady".
Most neighborhoods have someone who everyone knows is a dog lover, and it's always that person's yard that all the stray dogs somehow inexplicably seem to find. That's how little Bubba came to find his safe haven in a rural community south of Little Rock.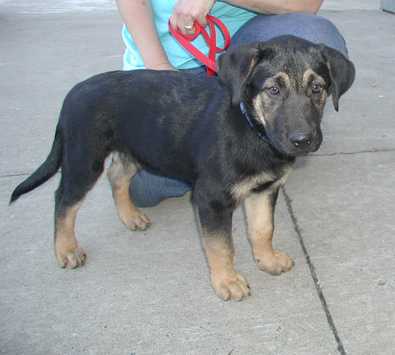 Like all little puppies, Bubba knew exactly what to do when the door opened; he hung his little head, looked up with big sad eyes, and started whimpering. Works every time!
Bubba is now safe and sound with The Dog Lady, and he's getting more attention, more meals, and more love that the man that lives with The Dog Lady. Perhaps the man should try making sad eyes and whimpering.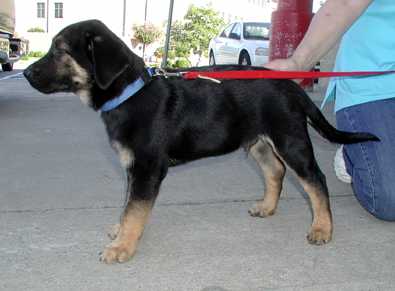 You can meet Bubba at the west Little Rock on across from Target and Home Depot every Sat and Sun from 1:00 PM to 4:00 PM except holiday weekends. Please be sure and call (501-219-9907) before you come to visit him to make sure that he is still available for adoption. Bubba has received a complete medical evaluation, all shots, rabies, fecal and worming medication, flea/tick preventative, heartworm preventative, micro-chipping, grooming, and will be altered as soon as he's old enough. If you have a man who doesn't mind being the Beta man about the house, then Bubba might be the perfect canine companion for your family. You are invited to send an email to Contact@DogsOnly.org or complete an online adoption application by clicking the orange colored text links at the top or bottom of this page to learn more about adopting Bubba.
If you don't find that special companion you are looking for in the DogsOnly rescue, rehabilitation, and re-home program then please visit Little Rock Animal Services, North Little Rock Animal Services, Sherwood Humane Animal Services, or one of the many other central Arkansas rescue organizations to save a rescued canine companion.