Sugar Bear is a spectacular adult female Chocolate Labrador Retriever who sadly became a casualty of divorce. Originally adopted when she was a little puppy, Sugar Bear enjoyed all the care and attention any puppy could ever want.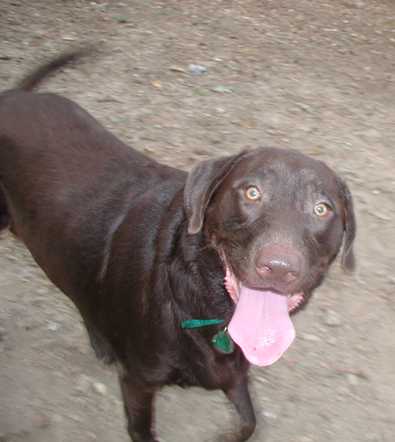 After only a few short years of happy life, Sugar Bear suddenly found herself alone in the back yard as the family she loved so much dissolved before her eyes. Fortunately, Sugar Bear's guardians remembered that they were told that if ever anything happened, anything at all, that meant they could no longer care for Sugar Bear, they should bring her right back to rescue.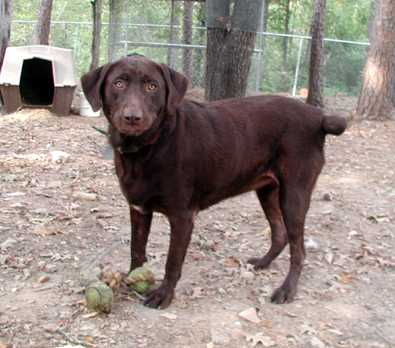 Once again Sugar Bear found herself looking for a family to love and be loved by. Hopefully this time, it's her forever home.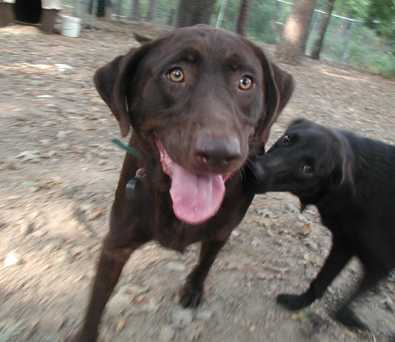 Sugar Bear is a fine healthy girl, who exudes enthusiasm in greeting everyone she meets. Smart and friendly, Sugar Bear is an excellent candidate for learning new commands, and will make a first class loyal companion.
All Sugar Bear needs now is a family and home to call her own. You can meet Sugar Bear at the west Little Rock on across from Target and Home Depot every Sat and Sun from 1:00 PM to 4:00 PM except holiday weekends. Please be sure and call (501-219-9907) before you come to visit her to make sure that he is still available for adoption. Sugar Bear has received a complete medical evaluation, all shots, rabies, fecal and worming medication, flea/tick preventative, heartworm preventative, micro-chipping, grooming, and has been altered. She is about 2 years old, and fully grown at around 85 Lbs. If you're in to playing, long brisk walks, and would like a friend would will listen eagerly to your every word like it's the most important thing she has ever heard, the Sugar Bear may be the canine companion for you. If you would like to learn more then you are invited to send an email to Contact@DogsOnly.org or complete an online adoption application by clicking the orange colored text links at the top or bottom of this page.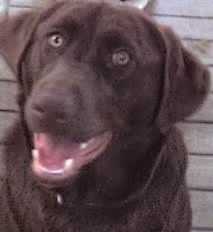 If you don't find that special companion you are looking for in the DogsOnly rescue, rehabilitation, and re-home program then please visit Little Rock Animal Services, North Little Rock Animal Services, Sherwood Humane Animal Services, or one of the many other central Arkansas rescue organizations to save a rescued canine companion.