Pal is a friendly male Spitz Chow mix who is about 2 years old. He was surrendered by his original owner to a central Arkansas kill shelter without any explanation. Who knows what poor ol' Pal must have been thinking as his owner handed him over at the noisy and frightening shelter.
Like most adult dogs in kill shelters Pal was not adopted right away. Eventually his time was up, and he faced a very grim fate indeed. Fortunately for Pal, one of the shelter employees took a special liking to Pal, and she managed to talk a rescue organization into springing Pal from the kill shelter.
Pal was taken to a vet for a checkup, where it was discovered that he was heart worm positive. They set to work treating him, and before long a new foster home was found for Pal a farm in Washington. Unfortunately for poor Pal, and just as he was on his way to his new home, the farm filed bankruptcy and was forced to shut down.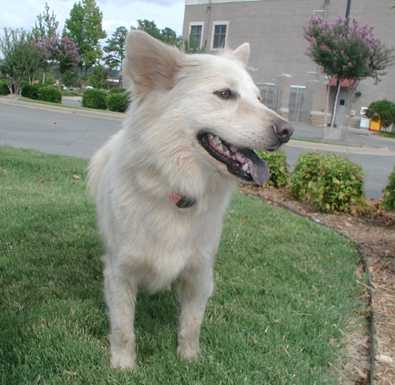 Now Pal found himself in a boarding kennel and was about to be on his way back to the kill shelter in Little Rock when someone thought about contacting DogsOnly to see if they could help. As luck would have it, DogsOnly had space available for Pal, so now he's safe and having a blast playing with the other DogsOnly dogs in foster.
Despite his heritage, Pal has proved to be charming, very friendly, playful, easy going, well mannered, and loves to run and play. He gets along with everyone he meets, is crate trained and housetrained. Pal loves to lick and give kisses, so he doesn't need to go to a home where someone is micro phobic. That tongue will whip a big wet lick on you faster than you can say, "YUCK!!!" Pal is fully vetted, over the heart worms, and is raring and ready to go to his new family.
You can meet Pal at the west Little Rock Petco on Chenal Parkway across from Target and Home Depot every Sat and Sun from 1:00 PM to 4:00 PM. Please be sure and call (501-219-9907) before you come to visit him to make sure that he is still available for adoption. Pal has received a complete medical evaluation, all shots, rabies, fecal and worming medication, flea/tick preventative, heartworm preventative, micro-chipping, grooming, and has been altered. If you're not afraid of a big wet lick or two and think that Pal would make the perfect addition to your family, you are invited to send an email to Contact@DogsOnly.org or complete an online adoption application by clicking the orange text links at the top or bottom of her official bio page located at the top or bottom of this page.
If you don't find that special companion you are looking for in the DogsOnly rescue, rehabilitation, and re-home program then please Little Rock Animal Services or one of the many other central Arkansas rescue organizations to save a rescued canine companion.