Cory is a handsome Great Pyrenees who out simply grew his home. Cory is still a young and immature canine companion, but he is already something of a gentle giant who likes nothing more than good company. On first meeting someone, Cory is cautious, but confident, and will quickly become best friends with anyone who is wiling to share a kind word and a good hard ear scratch. Once you have been approved for companionship by Cory, you'll have a friend for life.
Cory is a large boy, and he still has some growing to do, so his new family should be ready to accommodate his considerable company, and all of the challenges a large canine companion can bring to a home. He has already proved to be too much dog for one family, so his new family must be absolutely certain that they understand what they are getting into, and the gravity of the commitment they are making in offering Cory a home for life. Cory is a sweet and gentle companion, who deserves the security of a caring and understanding family who are ready to make a commitment for life.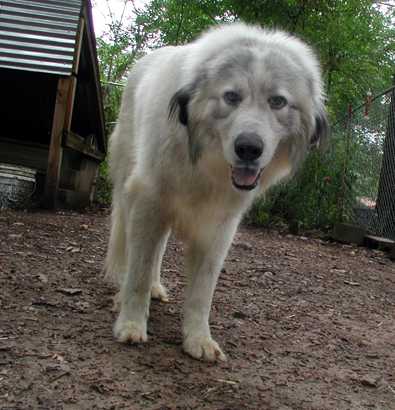 You can meet Cory at the DogsOnly adoption showings at the west Little Rock Petco on Chenal Parkway across from Target and Home Depot every Sat and Sun from 1-4. Please be sure and call (501-219-9907) before you come to visit him to make sure that he is still available for adoption. Cory has received a complete medical evaluation, alter, all shots, rabies, fecal and worming medication, flea/tick preventative, heartworm preventative, micro-chipping, and grooming. If believe that you might have the perfect family home for Cory, you are invited to send an email to Contact@DogsOnly.org or complete an online adoption application by clicking the orange text links at the top or bottom of this page.
If you don't find that special companion you are looking for in the DogsOnly rescue, rehabilitation, and re-home program then please Little Rock Animal Services or one of the many other central Arkansas rescue organizations to save a rescued canine companion.
Lady Carrollton's fluffy feet.