Jessie is a charming young adult female German Shepherd. She had been roaming around the town of Whitehall in central Arkansas for several weeks before she was befriended by a family who offered a friendly welcome and good food and clean water. For a time Jessie started trusting her new found friends, but after a couple of weeks Jessie decided to hit the road again. Before long she settled on the front porch of her current foster family. However Jessie had made an impression on her first family, who tracked her down and generously offered to pay for her spay and medical care.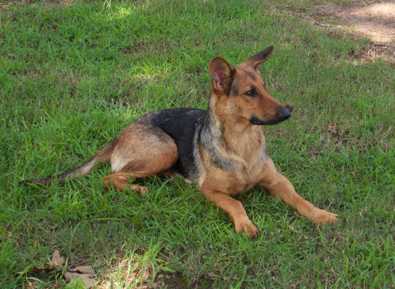 Both of Jessie's foster families are concerned that she may have been abused. Typical of German Shepherds, she would make a good watch dog. She has the more assertive temperament common to German Shepherds but she has never been known to become too aggressive, with the exception of playing too rough with the cats in her current foster home. She is still chewing a lot, but she seems to chew more when she is left alone and becomes anxious. As long as she has a person with her, she is perfectly happy.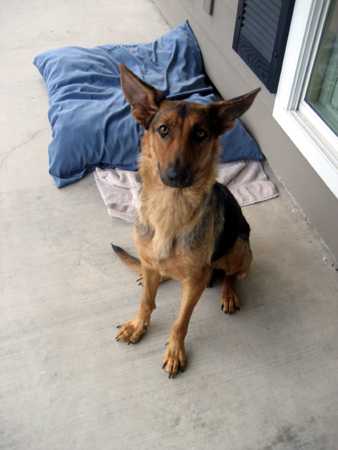 Jessie likes to sleep on the furniture. Her foster family will often catch her on the couch and occasionally on the loveseat. She will eat either dry or canned dog food. She wants to be in whatever room her person is in, and seems to be afraid of being alone.
Jessie hates to be put outside. She becomes distressed and starts to chew on things and scratch at the door and whine when she cannot come in. She is getting a little better as time goes on. She is extremely playful and loves balls! She will bat a ball around with her front paws and chase it the way a kitten would. She will fetch a ball or catch it if it is thrown to her. She also loves squeaky toys. She plays well with the two Labrador Retrievers at her foster home, and also with a neighbor Golden Retriever. She wants to play with the cats in her foster home, but she tends to get too rough for them.
Jessie is house trained and already knows her basic commands. She is easily scared by a raised voice, and will assume a submissive posture if spoken to in a hard tone. As a result she will need a compassionate family with the time, experience, and understanding needed to help her trust again.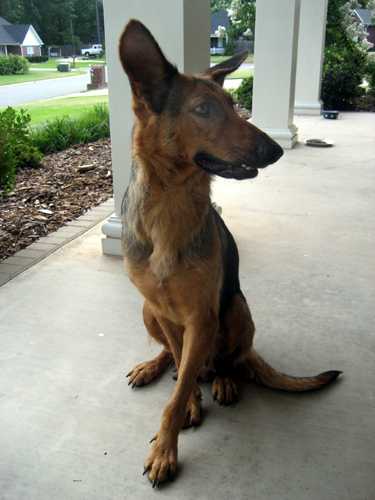 Jessie is an independent rescue supported by DogsOnly, so she may not be available to meet at all of the DogsOnly adoption showings at the west Little Rock Petco on Chenal Parkway across from Target and Home Depot every Sat and Sun from 1-4. Jessie has received a complete medical evaluation, alter, all shots, rabies, fecal and worming medication, flea/tick preventative, and heartworm preventative, If believe that you might have a permanent place in your life for Jessie, you are invited to send an email to cecolson@sbcglobal.net or complete an online adoption application by clicking the orange text links at the top or bottom of this page.
If you don't find that special companion you are looking for in the DogsOnly rescue, rehabilitation, and re-home program then please Little Rock Animal Services or one of the many other central Arkansas rescue organizations to save a rescued canine companion.