Fox Eyes is a shy and calm 14 week old female shepherd mix surprise! Like most unplanned surprise puppies, Fox Eyes needs a new home. Fox Eyes' parents are tricolor, 40-pound, slim-hipped shepherd-y looking dogs with medium-length wavy hair & Rottie coloring (black coats, brown "eyebrows"). The parents are good-natured dogs and have shown no aggression to each other, to the puppies, or to their rescuer. Fox Eyes, her litter mates, and Mom and Dad have all been to see the vet, and rode in the car like pros.
Fox Eyes and her parents lived with a single father, who works long hard hours, and has the dogs for the benefit of his three daughters (ages 10 to 13 years). Unfortunately the dogs (parents & pups) are largely ignored, and live in a small pen outdoors, because the terms of the lease do not permit indoor pets. The little girls used to play with Fox Eyes and the other puppies, but since the weather has heated up, they spend less and less time outdoors and so spend less time with little Fox Eyes.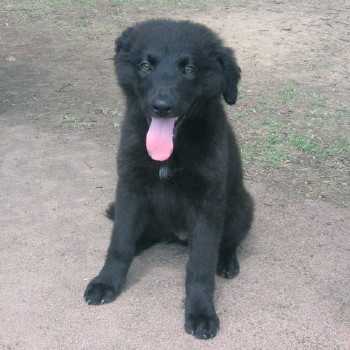 Fox Eyes, who already weighs over 17 pounds, is the calmest of her litter, and remains a little shy at first meeting someone.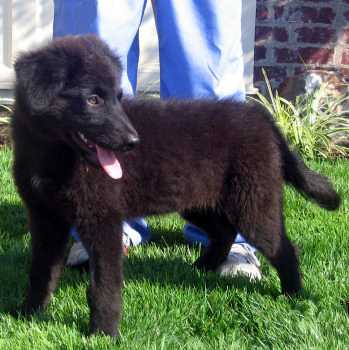 Please remember that as beautiful and cuddly as Fox Eyes is at the moment, she will grow into an adult dog in no time at all. You should also be prepared for the usual trial of rearing a young puppy including the chewing, crying, potty training, and constant demands. For this reason we would prefer that Fox Eyes's new guardians have experience with young puppies and understand their special needs. Remember, just like kids, they grow up real fast.
Fox Eyes has already been spayed, has completed her vaccinations, and has been micro-chipped.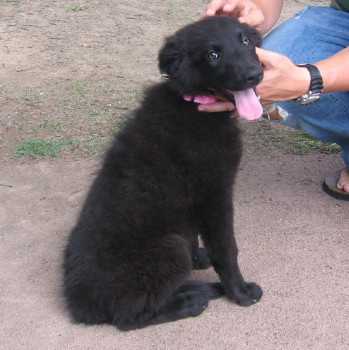 Fox Eyes is an independent rescue supported by DogsOnly, but you may be able to meet Fox Eyes at the west Little Rock Petco on Chenal Parkway across from Target and Home Depot every Sat and Sun from 1-4. Please be sure and call (501-219-9907) before you come to visit her to make sure that she is at the showing and is still available for adoption. Fox Eyes has received a complete medical evaluation, alter, all shots, rabies, fecal and worming medication, flea/tick preventative, heartworm preventative, micro-chipping, and grooming. If believe that you might have a permanent place in your life for this wonderful little girl, you are invited to send an email to aHickshornbeck@yahoo.com or complete an online adoption application by clicking the orange text links at the top or bottom of her official bio page located at http://www.dogsonly.org/326pop.html.
If you don't find that special companion you are looking for in the DogsOnly rescue, rehabilitation, and re-home program then please Little Rock Animal Services or one of the many other central Arkansas rescue organizations to save a rescued canine companion.