Zephyr is a gentle Golden Retriever / Hound mix who was found wandering the streets of downtown Little Rock when he was about 9 months old and rescued by a kind Samaritan. Zephyr was adopted and lived with a family for almost three years until a family illness forced them to look for a new home for this soulful and happy companion.
Zephyr is a laid-back boy who does a good imitation of a throw rug, yet can spring to life at a moment's notice to play and wreck havoc with his happy tail. Zephyr is current on all shots with no known health issues. He will eat almost anything, but he is particular fond of the juicy pork bones his guardians get from Corkey's BBQ. Every delicious pork bone that Zephyr eats means that Corkey's make a donation to the Humane Society, so he's really doing his bit to support other canine companions in need.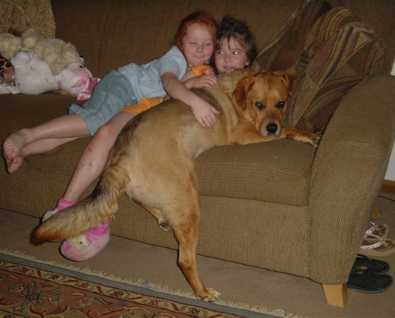 Zephyr's family do not know if he's a swimmer, but they did tell us that he will jump into the shower with them, which they explained is much easier than bending over a tub to bathe him. When you tell him to "place" he will lay down. He is strong enough to pull two kids on a sled in the winter and an out of shape woman up St Charles Boulevard. He has been known to protect his yard from time to time.
You can meet Zephyr at the west Little Rock Petco on Chenal Parkway across from Target and Home Depot every Sat and Sun from 1:00 PM to 4:00 PM. Please be sure and call (501-219-9907) before you come to visit him to make sure that he is still available for adoption. Zephyr has received a complete medical evaluation, all shots, rabies, fecal and worming medication, flea/tick preventative, heartworm preventative, Bordatella vaccination, grooming, and has been altered and micro-chipped. If you think that Zephyr would make the perfect addition to your family, you are invited to send an email to Contact@DogsOnly.org or complete an online adoption application by clicking the orange text links at the top or bottom of this page.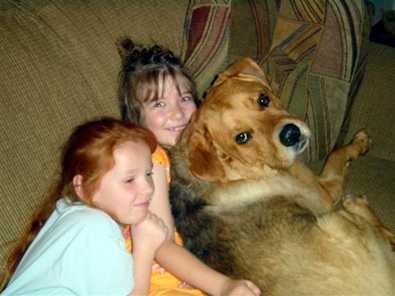 If you don't find that special companion you are looking for in the DogsOnly rescue, rehabilitation, and re-home program then please Little Rock Animal Services or one of the many other central Arkansas rescue organizations to save a rescued canine companion.