Buddy is a charming young multi-breed mix of unknown types; he is what at DogsOnly we call a 100% pure Arkansas Brown Dog – the fluffy version. Picked up and taken down to the pound, Buddy somehow managed to survive for 6 long months before he was spotted in his kennel by a visiting volunteer from DogsOnly, and sprung from the Big Dog House. We don't know how Buddy managed to avoid the cruel fate that awaits most of the canine companions that are not adopted from the pound, and although there are those who say he has a lucky charm, the truth may be closer to him simply being a charming and adorable young companion, so much so that the people at the pound grew fond of him and kept him from being euthanized.
After Buddy was sprung from the pound, he went straight to the vet and received a complete checkup and got a clean bill of health. Buddy is as smart as a whip, and he's already starting to learn his basic manners and housetraining. His coat is a soft silky medium length that shines and floats about him as he runs and plays with the other dogs in his foster home. At around 40 pounds he could stand to gain a little weight, but Buddy is not a big eater and is known as a laid back and relaxed companion. More than anything Buddy would love to have a loving home with a kind and gentle guardian who can spend time with him and take him for walks and teach him things no one else has ever bothered to do.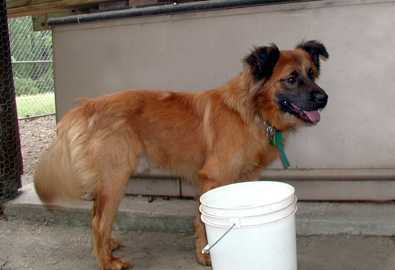 You can meet Buddy at the west Little Rock Petco on Chenal Parkway across from Target and Home Depot every Sat and Sun from 1:00 PM to 4:00 PM. Please be sure and call (501-219-9907) before you come to visit him to make sure that he is still available for adoption. Buddy has received a complete medical evaluation, his first rounds of shots, rabies, fecal and worming medication, flea/tick preventative, heartworm preventative, Bordatella vaccination, grooming, and will be altered and receive his microchip shortly. His adoption fee is $125 and helps to reimburse some of the cost if the medical care provided. If you think that Buddy would make the perfect addition to your family, you are invited to send an email to Contact@DogsOnly.org or complete an online adoption application by clicking the orange text links at the top or bottom of this page.
If you don't find that special companion you are looking for in the DogsOnly rescue, rehabilitation, and re-home program then please Little Rock Animal Services or one of the many other central Arkansas rescue organizations to save a rescued canine companion.