Mozart is a fine figure of an adult Poodle mix who was discovered by kind Samaritans in a kill shelter getting very depressed. Mozart has already lived a hard and sorrow filled life. Rescued as a puppy from the pound, a young man initially took very well care of him until his circumstances changed and he had to move. Mozart's guardian turned to his groomer in the hope that she would find a good home for him. It wasn't long before Mozart was on his way to live with a elderly couple to start life afresh. Unfortunately his new guardian soon became ill and could no longer care for Mozart, and so it was that poor ol' Mozart found his way back to the shelter all over again.
When Mozart was discovered he was in pitiful shape; his coat was matted and filthy, he was hungry, thirsty, and scared, but after a trip to the doggy beauty parlor and a lot of hard work on the part of his groomer, Mozart emerged a spectacular looking canine companion.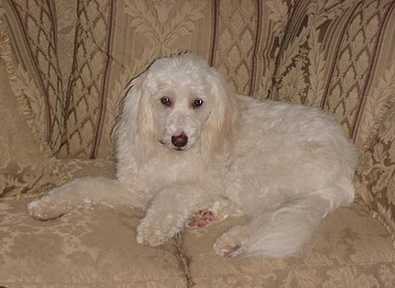 Mozart is not a canine companion you can just banish out to the yard and forget about, he needs companionship and attention and likes to walk on the leash and be with his guardian in the house. Neither is Mozart a canine companion for the casual dog lover; Mozart expects and needs a trip to the beauty parlor at least every four weeks for a healthy grooming. He gets along famously with other dogs and even cats. He especially likes the companionship of women, but he is a little afraid of men. His rescuers learned from the shelter that he may have been abused by his former owner who was a man. Mozart is well behaved in the house and is completely housebroken.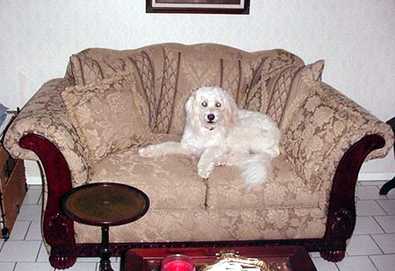 This October Mozart will be three years old. He has already been to see the vet, who was very pleased to report that Mozart is heart worm free, and in excellent health. Mozart is independent rescue supported by DogsOnly, and so will not be attending the DogsOnly adoption showings at Petco in west Little Rock, but if you would like to learn more or even meet him you can send an email to his rescuers, Bob and Ursula, at bgorden@ritternet.com. You can also complete an online adoption application by clicking the links at the top or bottom of this page. Your application or emails will be sent to Mozart's rescuers without delay.
If you don't find that special companion you are looking for in the DogsOnly rescue, rehabilitation, and re-home program then please Little Rock Animal Services or one of the many other central Arkansas rescue organizations to save a rescued canine companion.