Jelly Bean is a small adult female Dachshund whose journey through life has been one filled with twists and turns that have not always been for the better. Initially Jelly Bean had been an only canine companion and was the queen of the house with her previous owners who were an older retired couple. Regretfully her guardians were forced to make a painful decision to turn poor Jelly Bean into a humane society for adoption because they could no longer take care of her.
Jelly's new home turned out to be a lot different from her original home, where she found 2 other canine companions and 2 cats. Jelly never really found a way to adjust to sharing her home with other dogs and cats, but her new guardians thought that with some hard work and patience Jelly would make the adjustment. Jelly would have none of it, and over time she became restless and melancholic. Then one day Jelly Bean wondered away from home and was hit by a passing car. She was rushed to the animal hospital, but sadly lost one of her eyes. After the accident Jelly became even more depressed and less tolerant of the other dogs and cats in her home, and with her poor sight, play with the other dogs became frustrating for Jelly Bean.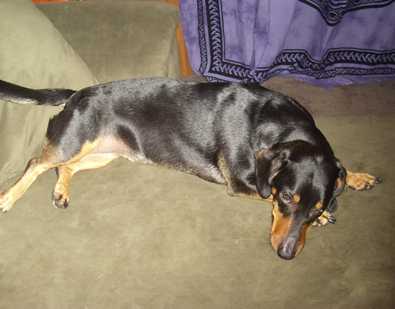 Painful as it is, Jelly Bean's guardians understand that Jelly now has special needs that just can not be met in her current home. Jelly Bean needs a home where she is the only canine companion. Young children make her nervous, and she would probably do best in a calm home with an older couple.
In the right environment Jelly Bean is a loving, sweet, and happy go lucky companion. She loves to ride in the car and knows all kinds of tricks. She is an attention seeker and actually enjoys a nice warm bath, brushing, and believe it or not she likes getting all dressed up. Jelly Bean can't get enough of the treats, belly rubs, and walks. She likes nothing more than sitting with her human companions on the couch and will take her toys into the kitchen and do a little dance. Because of her adorable personality, Jelly has picked up several nicknames including "Mail Carrier" because she will pick up your socks or a paper and carry it around dancing and playing. When it's cold outside, Jelly Bean will run inside looking for an ear rub to take the sting of the cold away.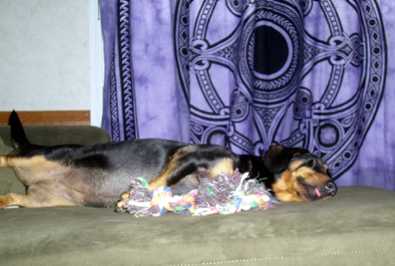 Jelly Bean is an independent adoption, supported by DogsOnly so she may not be available to meet at the DogsOnly adoption showings at the west Little Rock Petco on Chenal Parkway across from Target and Home Depot every Sat and Sun from 1:00 PM to 4:00 PM. If you think that Jelly Bean might make the perfect addition to your family, you are invited to send an email to her guardian at barbwestfall2004@yahoo.com or complete an online adoption application by clicking here or on the the orange text links at the top or bottom of this page.
If you don't find that special companion you are looking for in the DogsOnly rescue, rehabilitation, and re-home program then please Little Rock Animal Services or one of the many other central Arkansas rescue organizations to save a rescued canine companion.