Mia is a young Golden Retriever Australian Shepherd mix puppy who was found trotting along the side of a major road in Little Rock with another stray frightened puppy. Before the two hapless pups knew what was happening, they were surrounded by people chasing them with long poles. Suddenly cold steel wires tightened around their necks and they were dragged into the arms of the animal control officers and pushed into a cold steel cage in the back of a noisy truck. We can only imagine the fear these two little pups must have felt as they were driven to the pound.
When their journey to the pound was over, Mia and her companion found themselves locked up in a noisy and what must be terrifying and cold concrete kennel where their chance for adoption was poor, and the likelihood of them making it out without sickness is slim. Fortunately for Mia, things were about to take a turn for the better. A visiting volunteer from DogsOnly spotted poor little Mia huddled in the back of her kennel and coaxed her out with a few soft words of assurance.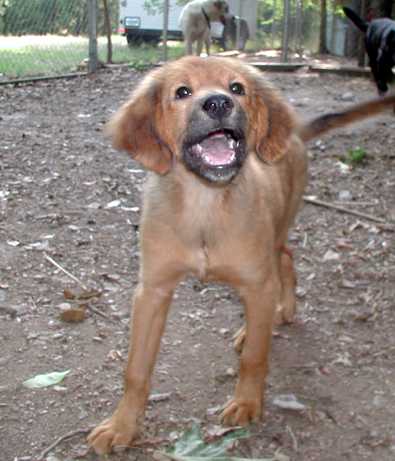 Mia was so happy to get out and get back on the grass that she ran around in circles and rolled in the grass. If you could have seen her you would swear that she was laughing. Now that all of her troubles are behind her, Mia is quite the happy little puppy and at about 4 months old she weighs about 15 pounds. She loves to play with her foster siblings and is a typical puppy. She needs a home that has the time and energy to raise a healthy well adjusted puppy into a good adult canine companion. She will probably be about 40 pounds when full grown. She has a funny little pointy tail that curls over her back when she is happy.
You can meet Mia at the west Little Rock Petco on Chenal Parkway across from Target and Home Depot every Sat and Sun from 1:00 PM to 4:00 PM. Please be sure and call (501-219-9907) before you come to visit her to make sure that she is still available for adoption. Mia has received a complete medical evaluation, her first rounds of shots, rabies, fecal and worming medication, flea/tick preventative, heartworm preventative, grooming, and will be altered and receive her microchip as soon as she's old enough. Her adoption fee is $125 and helps to reimburse some of the cost of her medical care. If you think that Mia would make the perfect addition to your family, you are invited to send an email to Contact@DogsOnly.org or complete an online adoption application by clicking the orange text links at the top or bottom of this page.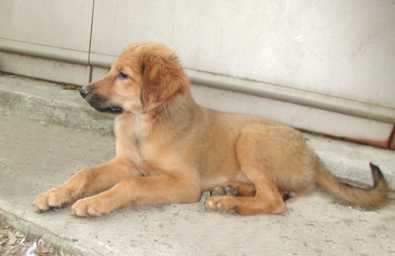 If you don't find that special companion you are looking for in the DogsOnly rescue, rehabilitation, and re-home program then please Little Rock Animal Services or one of the many other central Arkansas rescue organizations to save a rescued canine companion.