Pearl is a tiny little girl barely tipping the scales at about 2 ponds and still only 5 to 7 weeks old. We aren't 100% sure about her breed mix, we are just guessing based on her traits and appearance. Best guess at this point in time is that she is possibly a Spitz Schipperke mix. Pearl was found on a blistering hot day in Little Rock. She was out in the street running around on the hot asphalt. The two young girls who rescued her said they never really even saw Pearl. She was just as black as the asphalt and they just happened to see something move on the street so they stopped their car. They were surprised to find such a tiny little puppy out in the road on such a hot day, with no one around looking for her. So off she went to animal control where she would at least be out of traffic and off the streets.
Well it was Pearl's lucky day because a visiting volunteer from DogsOnly was standing in the parking lot when they pulled up to surrender little Pearl to the pound. Luckily for Pearl, she never saw the inside of the shelter and so never had to be exposed to all the disease and trauma she would have found inside. Straight to her foster home she went where she is living with three big dogs over 100 pounds and a foster puppy who she loves to play with. And play Pearl loves to do. She runs and runs and it's so funny to watch. She bounces like she has springs on her feet she is so happy. She loves everyone and everything.
We are guessing she will be 25-40 pounds when full grown so she will be a medium sized girl. We do not know anything about her parents or where she came from so it's hard to determine her breed mix with any real degree of precision. She is very small and has fine bones and tiny feet so we don't think she will get really big but when adopting a rescue, sometimes we just can't make any guarantees. Pearl sleeps through the night in her crate without making a sound. She isn't old enough to hold her pee pee all night but will not potty in her crate so she is well on her way to being trained. She also will only use the bathroom off the beaten path at the foster home, so she has already come by some good potty skills naturally. She is an active girl so she will need some one ready for puppy energy and that has the energy to keep up with her.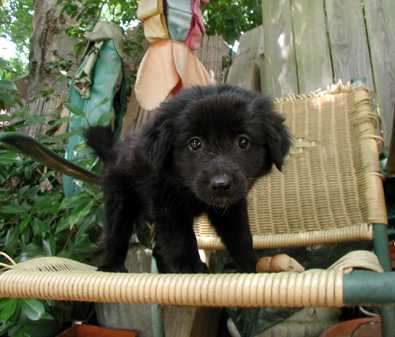 Pearl has had her first set of shots and has been wormed. Her adoption fee is $125 and helps to pay for all her vet care that will be provided to include - all puppy shots and Bordatella, spay at the age of 6 months, micro-chipping, rabies, grooming, heartworm preventative and Frontline application. You can meet Pearl at the west Little Rock Petco on Chenal Parkway across from Target and Home Depot every Sat and Sun from 1:00 PM to 4:00 PM. Please be sure and call (501) 219-9907 before you come to visit her to make sure that she is still available for adoption. Pearl has already received a complete medical evaluation, his first rounds of shots, rabies, fecal and worming medication, flea/tick preventative, heartworm preventative, grooming, and will be altered and receive her microchip as soon as he's old enough. If you think that Pearl would make the perfect addition to your family, you are invited to send an email to Contact@DogsOnly.org or complete an online adoption application by clicking the orange text links at the top or bottom of this page.
If you don't find that special companion you are looking for in the DogsOnly rescue, rehabilitation, and re-home program then please Little Rock Animal Services or one of the many other central Arkansas rescue organizations to save a rescued canine companion.