Shiloh is a spectacular young male pinto Anatolian Shepherd. Shiloh was found as a stray, wondering along a country road north of Jacksonville in central Arkansas, and taken in by Jacksonville Animal Services. He is lucky because a dog as large as Shiloh makes for a large target in the country where it is not unknown for people to deal with the homeless pet population with a gun. Fortunately for Shiloh, his laid back and slightly shy personality probably kept him from a situation where he might have been considered a threat.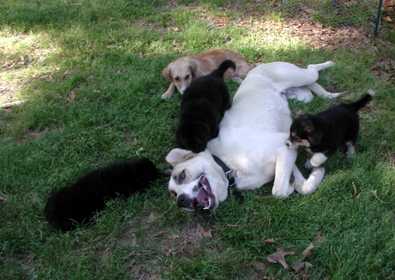 These pictures of Shiloh say it all. He is laid back, friendly, easy going, and an all around fantastic companion. It would not be fair to say that he is wildly enthusiastic, or even close to that, about the swarm of little puppies in his foster home that think he makes a great giant chew toy, but he takes their sharp little teeth and relentless attention completely in his stride. When the ear pulling and chewing finally become just too much, Shiloh just stands up, stretches, and walks off shedding squirming puppies all over the place. His greatest joy is to sit with someone for an ear scratch, and he rewards you with look of absolute contentment. A better companion you'll never find.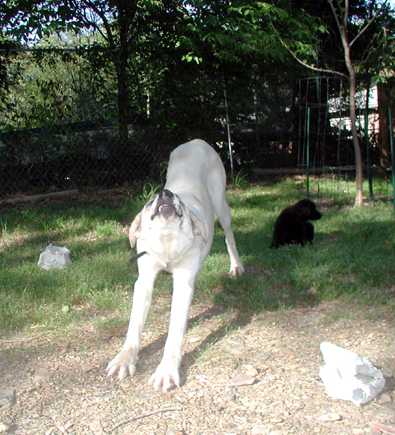 You can meet Shiloh at the west Little Rock Petco on Chenal Parkway across from Target and Home Depot every Sat and Sun from 1:00 PM to 4:00 PM. Please be sure and call (501-219-9907) before you come to visit him to make sure that he is still available for adoption. Shiloh has received a complete medical evaluation, his shots, rabies, fecal and worming medication, flea/tick preventative, heartworm preventative, grooming, and will be altered and receive his microchip as soon as he's old enough. If you think that Shiloh would make the perfect addition to your family, you are invited to send an email to Contact@DogsOnly.org or complete an online adoption application by clicking the orange text links at the top or bottom of this page.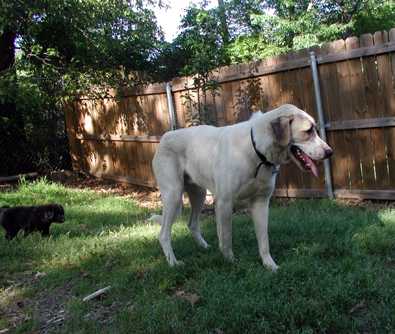 If you don't find that special companion you are looking for in the DogsOnly rescue, rehabilitation, and re-home program then please Little Rock Animal Services or one of the many other central Arkansas rescue organizations to save a rescued canine companion.