Nadia is a charming female adult Chow Chow mix. She simply showed up in a gentleman's front yard, and decided to stay. After several days of feeding Nadia over his fence, her gentleman friend looked up a number for a local couple known to rescue stray canine companions and called to see if they could help. Although glad to take food from her gentleman friend, Nadia remained unsure of his intentions and would retreat back down a busy highway, so there was real concern for her safety.
In the middle of an icy rain on a freezing cold day Nadia was coaxed into a warm safe car. She was wet, cold, dirty and hungry, but after some TLC she relaxed and turned out to be a very friendly canine companion who loves attention. However, she's not as fond of the company of other dogs as she is of the company of humans. Her rescuers are working hard with her on getting used to the company of other dogs. As a result of her reluctance to get along with the other rescued dogs in her foster home, Nadia has to sleep in the garage but has never had an accident. She has had all shots and surprisingly for a stray in rural Arkansas, a heartworm test came back negative. She will be altered in March, so she will be all ready to join a new family. Nadia already behaves well to a leash and does very well in the car.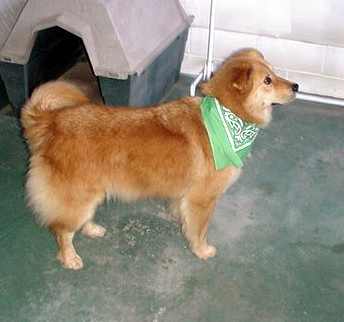 Nadia is an independent rescue supported by DogsOnly, and so will not be attending the DogsOnly adoption showings at Petco in west Little Rock, but if you would like to learn more or even meet her you can send an email to her friends and rescuers, Bob and Ursula, at bgorden@ritternet.com. You can also complete an online adoption application by clicking the links at the top or bottom of this page or send an email to contact@dogsonly.org. You application or emails will be sent to Nadia's guardians without delay.


Click the logo above to learn more
If you don't find that special companion you are looking for in the DogsOnly rescue, rehabilitation, and re-home program then please visit Last Chance Arkansas or one of the many other central Arkansas rescue organizations to save a rescued canine companion.