Smiley is a good natured Labrador Retriever with an impish smile. Somewhere along the line something hit poor ol' Smiley awful hard, hard enough to break his jaw and leave him with a permanent grin. In all probability, Smiley went after a cat that did a better job of navigating the traffic than he did, leaving Smiley to a one on one with a Detroit Special. To this day Smiley's mouth stays slightly open all the time, leaving his tongue flopping out to the side of his mouth. This hasn't stopped Smiley from enjoying his dinner though, he uses the back part of his mouth to demolish anything left in his bowl, wet or dry. The one concern is that Smiley might not be able to fully defend himself if he was threatened by aggressive dogs that might bully him.
Smiley lives in a home with 3 other dogs, and four cats, although as you can imagine, he's not too fond of the cats. Smiley needs a home with a yard and possibly another female or male dog to play with or an older child or adult who will play with him. He is a warm and lovable canine companion who is good natured and happy. Smiley is active and outgoing, and bounces around a lot to greet you. He likes running through puddles and mud, and loves to play with other dogs. When his batteries have run down, Smiley likes to come inside the house and be with people.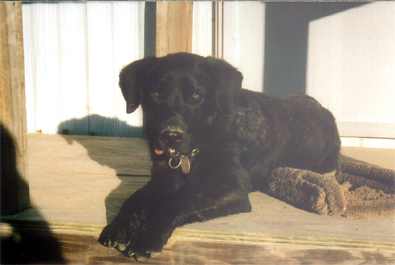 Smiley is house trained, has had all of his shots and has been neutered. His heart worm test was negative. Smiley is an independent re-home supported by DogsOnly, and so will not be attending the DogsOnly adoption showings at Petco in west Little Rock, but if you would like to learn more or even meet him you can send an email to Contact@DogsOnly.org or complete an online adoption application by clicking the links at the top or bottom of this page. Your application or email will be sent to Smileys' guardian without delay.


Click the logo above to learn more
If you don't find that special companion you are looking for in the DogsOnly rescue, rehabilitation, and re-home program then please visit Last Chance Arkansas or one of the many other central Arkansas rescue organizations to save a rescued canine companion.