Nugget is an adult, although very puppyish, treat loving, people loving, lounging on sofa luvin, kid luvin, attention seeking, tail waggin', dog park luvin, happy and beautiful German Shepherd Border Collie mix (try repeating that without stopping to take a breath). When you meet him you'd never guess that Nugget's past life has been one long lonely struggle.
Nugget was adopted 2 years ago as a puppy who had already survived parvo, from Jacksonville Animal Control in central Arkansas. When he was adopted, his new family was given a "reduced cost neuter" certificate, and it was agreed that they would make sure that Nugget was neutered and given basic medical care. They didn't "get around to it" either when they first adopted him or when he was old enough.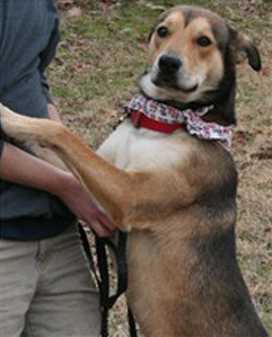 At first Nugget was a source of interest and curiosity for the family and their children, but very soon, when it became apparent that caring for a puppy was actually real hard work, the family simply abandoned poor Nugget to the end of a chain in the back yard and forgot about him. Exposed to the elements in the punishing weather extremes of Arkansas, and except for the occasional contact Nugget received from his "owners" when he was given some food, he was all alone. For a canine companion as intelligent and loving as Nugget, this isolation was a sentence of torture.
Eventually, as Christmas was approaching, Nugget's owners found even the paltry amount of care they were giving to him more trouble than they were willing to endure, and they placed a "free to good home" ad in the local paper. Fortunately for Nugget, someone who could read between the lines saw the ad and came to Nugget's rescue.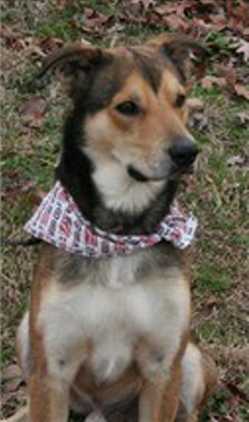 When his rescuer went to pick him up, his owners explained that they wanted to "get rid of him" because they "didn't have time" for him. They still had the reduced cost certificate, and when Nugget's rescuer presented the certificate at Jacksonville Animal Hospital, the vet tech/secretary called Animal Control and reported the failure to have Nugget neutered. At least there won't be any other dogs going to the same fate as Nugget...
Nugget has now been house trained, crate trained, leash trained, and has received all his basic medical care including his neuter. Nugget is no longer Free To Good Home, an adoption fee is required. If you think that you and your family can give Nugget the life he finally deserves, you are invited to send an email to his friend and rescuer at werkin2liv@yahoo.com. You can also complete an online adoption application by clicking the links at the top or bottom of this page or send an email to contact@dogsonly.org. You application or emails will be sent to Nugget's guardian without delay.


Click the logo above to learn more
If you don't find that special companion you are looking for in the DogsOnly rescue, rehabilitation, and re-home program then please visit Last Chance Arkansas or one of the many other central Arkansas rescue organizations to save a rescued canine companion.