Tamale is a charming and super friendly Shepherd Shepherd Corgi mix who could use a little exercise. Shown here at around 25 pounds, Tamale has grown a little padding since her first picture shown below and now weighs more like 35 Lbs thanks to one too many delicous treats and one too few walks.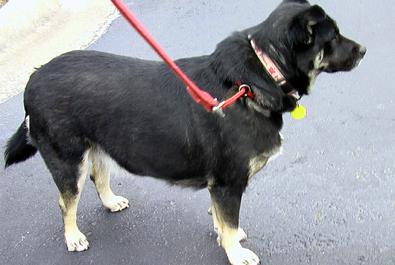 On any given day in dog rescue there might be every kind of dog breed mixed in there somewhere, but Tamale has raised the bar, because, incredibly she *appears* to be a Corgi German Shepherd mix.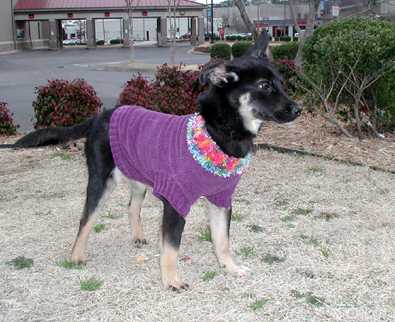 Tamale before she went to a new family who ultimately couldn't keep her.
Tamale is still quite young and we don't know what her situation was before she was picked up by Little Rock Animal Services and eventually rescued from the shelter, but a good guess would be that she' survived a difficult journey. At first intensely curious, she quickly checks you out and sizes you up. If you pass the test, you instantly become her next best friend. Being Tamale's next best friend turns out to be a remarkably easy assignment, all you have to do is cuddle, play, and talk to her is your best squeaky voice. Tamale will love you for it.
You can meet Tamale at the west Little Rock Petco on Chenal Parkway across from Target and Home Depot every Saturday from 1:00 PM to 4:00 PM except holiday weekends. Please be sure and call (501-219-9907) before you come to visit her to make sure that she is still available for adoption. Tamale has received a complete medical evaluation, all shots, rabies, fecal and worming medication, flea/tick preventative, heartworm preventative, micro-chipping, grooming, and has been altered.
If you can do a good squeaky voice, and love to cuddle and play Tamale might make the perfect addition to your family. You are invited to send an email to Contact@DogsOnly.org or complete an online adoption application by clicking the orange colored text links at the top or bottom of this page to learn more about adopting Tamale.
All DogsOnly foster homes work with our rescues to ensure they are crate trained and most are also housetrained. None of the DogsOnly fosters have cats in their homes so we can only make our best guess as to how our rescues would do with cats. We rescue from high kill shelters and once accepted into our program, none of our rescues are euthanized. We provide for all their vet care, socialization and training until an appropriate home can be found.
All of our young and adult dogs require a 2 week home visit before finalizing the adoption process. This is to help ensure it is a good match for all involved without making a final commitment. All of our rescues are in private homes and not available to be visited outside of showing times.
DogsOnly relies solely on donations and is a 501(c)3 Humane Society. Our mission is to rescue dogs that most other groups are not interested in due to their size, breed, age, health or other various reasons, and to provide education resources for dog owners and those with an interest in the wellbeing of dogs. DogsOnly believes that no dog should be left behind.
Thank you for your interest in rescue and in saving the life of a dog. Every day in the United States, 11,000 dogs are euthanized.
Why Buy When You Can Save? Save a Rescued Dog.
If you don't find that special companion you are looking for in the DogsOnly rescue, rehabilitation, and re-home program then please visit Little Rock Animal Services, North Little Rock Animal Services, Sherwood Humane Animal Services, or one of the many other central Arkansas rescue organizations to save a rescued canine companion.