Pepper is a tiny little male Jack Russell terrier mix who is only six to eight weeks old. Currently weighing in at only 5 pounds, Pepper will quickly sprout to about 30 pounds when he is full grown.
It didn't take much effort for Little Rock Animal Services to capture poor little Pepper, after all he's too small to put up much of a struggle, and he was just too tired and hungry to resist. Before he knew what was happening, Pepper was locked up and on his way to the pound with several other frightened canine companions. Somehow Pepper managed to find his inner wolf, and despite his diminutive size and young age he stood up to all the big dogs with valor.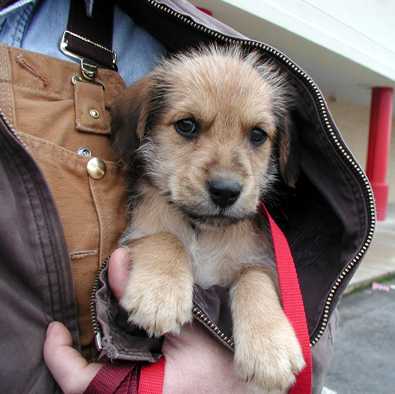 Pepper survived the journey to the pound in that steel crate with all the big bad dogs, scrapped for his share of the food in the kennel, but still managed to turn on that puppy magic to get the attention of a visiting DogsOnly volunteer. It only took one whiff of that magical puppy breath, a soft nuzzle, and Pepper was outa there.
You can meet Pepper at the west Little Rock Petco on Chenal Parkway across from Target and Home Depot every Sat and Sun from 1:00 PM to 4:00 PM. Please be sure and call (501-219-9907) before you come to visit him to make sure that he is still available for adoption. Pepper has received a complete medical evaluation, all shots, rabies, fecal and worming medication, flea/tick preventative, heartworm preventative, micro-chipping, grooming, and will be altered as soon as he's old enough. If Pepper sounds like the kind of companion that would be a good fit for your family, you are invited to send an email to Contact@DogsOnly.org or complete an online adoption application by clicking the orange text links at the top or bottom of this page.
If you don't find that special companion you are looking for in the DogsOnly rescue, rehabilitation, and re-home program then please visit Last Chance Arkansas or one of the many other central Arkansas rescue organizations to save a rescued canine companion.