Biscuit is a sweet, 3 year old, female Jack Russell Terrier who needs a new home. She's very playful but not overly hyper. She loves to cuddle on the couch and wants to sit right up next to you and bury herself under the covers or a blanket. She LOVES being outside and really needs a fenced area to run around and play.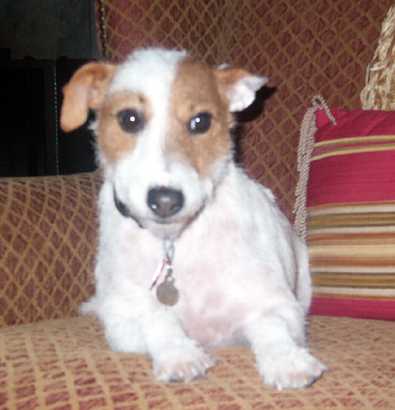 Biscuit weighs about 15 pounds, is spayed, current on all shots, and house trained. She has the type of coat that does not shed. She is good with kids, even small kids. Despite a good nature and friendly personality Biscuit is not getting along very well with another female Jack Russell Terrier who happens to be blind. Typically female Jack Russell Terrier's don't do well together, but unfortunately Biscuits' guardians didn't know that several years ago when they brought her home. It's not known how she would do with any other kinds of dogs or cats because she's rarely around any.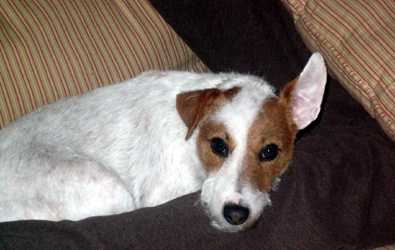 Biscuit is an independent rehome supported by DogsOnly, and so will not be attending the DogsOnly adoption showings at Petco in west Little Rock, but if you would like to learn more or even meet him you can send an email to his guardian at robynlp@yahoo.com or call 501-310-7003. You can also complete an online adoption application by clicking the links at the top or bottom of this page or send an email to contact@dogsonly.org. You application or emails will be sent to Biscuits' guardian without delay.
If you don't find that special companion you are looking for in the DogsOnly rescue, rehabilitation, and re-home program then please visit Last Chance Arkansas or one of the many other central Arkansas rescue organizations to save a rescued canine companion.