Pinocchio is an independent rescue supported by DogsOnly. Following is a note from his rescuer and guardian…
Pinocchio is an adorable, happy-go-lucky, sweet 7 month-old shepherd/terrier mix. Pinocchio was found dumped in the woods and was lucky enough to be found by the son of a dog trainer/behaviorist. He was flea infested, skinny, sickly looking, his nose was the biggest thing on him, ergo Pinocchio became his name. While he has given hours of smiles and laughs, Pinocchio has also learned sit, walks nicely on a lead unless he is trying to eat it and is crate trained and housebroken in our home. Pinocchio is an indoor companion, weighs in around 35-40 lbs (most likely will grow a bit more) and will be a medium size dog. Pinocchio is neutered and current on all of his shots and heart worm negative.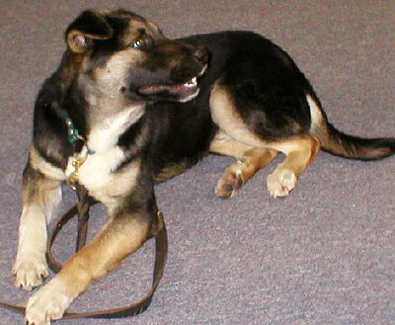 Pinocchio is a puppy and loves people - more than toys actually. His tail goes 90 to nothing all the time, loves to give kisses, and loves to kiss toes!!! (He has not been around cats but with positive reinforcement, we believe he can learn to be cat tolerant.) His ideal forever home would be with an active family who likes to spend time with him playing, snuggling or taking walks as Pinocchio likes to be with his people. Pinocchio loves to play with other friendly dogs - so start looking for acceptable playmates, too. His family should include him in all family activities and share his puppy curiosity and zest for life with laughs, kisses and hugs. We highly recommend continuing his obedience training which is a great way to bond together and have an hour or more of quality time with this great boy. Did we mention that he loves hot dog treats?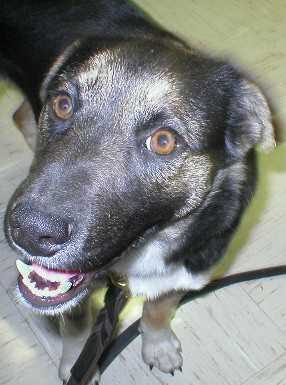 Pinocchio is an independent rescue supported by DogsOnly, and so may not be attending the DogsOnly adoption showings at Petco in west Little Rock, but if you If you think you are the perfect home for this sweet boy you can send an email to his friend and rescuer, Chris, at ckbettis56@sbcglobal.net or call 501-868-8394. An online adoption application is required and can be found by clicking the links at the top or bottom of this page. You may also send an email to contact@dogsonly.org. You application or emails will be sent to Pinocchio's guardian without delay. A home visit and adoption fee are also required.
If you don't find that special companion you are looking for in the DogsOnly rescue, rehabilitation, and re-home program then please visit Last Chance Arkansas or one of the many other central Arkansas rescue organizations to save a rescued canine companion.