Tinky is a sweet and friendly female Golden Retriever mix puppy. She was picked up by Little Rock Animal Services and taken to the shelter to compete with all the other dogs and puppies for the attention of the few people willing to endure the noise and distress of the barking and crying. Scared by the noise and intimidating environment of the shelter, Tinky became shy and withdrawn, increasing the odds that she would be overlooked by visitors and left to face a grim fate.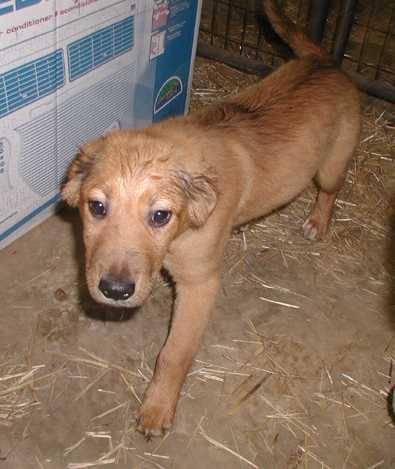 Fortunately for Tinky, she was noticed peering through the wires of her kennel gate by a visiting DogsOnly volunteer. After only a few days out of the noise and confusion of the shelter, Tinky has made a remarkable recovery and is running about and playing with the other dogs in her foster home. Tinky is approximately 16 weeks old and weighs about 15 pounds.
Tinky needs a home with someone who can spend time with her as she was apparently not given much attention in the shelter. She will at first creep up to you to make sure you're friendly, and then, as soon as she realizes you're OK, will instantly become your best friend.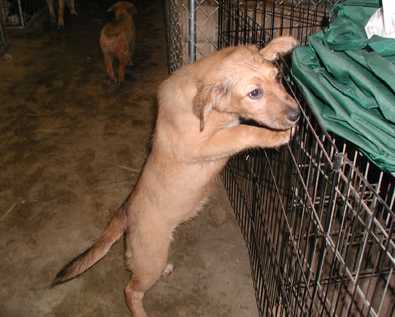 Please remember that as beautiful and cuddly as Tinky is at the moment, she will grow into an adult dog in no time at all. You should also be prepared for the usual trial of rearing a young puppy including the chewing, crying, potty training, and constant demands. For this reason we would prefer that Tinky's new guardians have experience with young puppies and understand their special needs. Remember, just like kids, they grow up real fast.
You can meet Tinky at the west Little Rock Petco on Chenal Parkway across from Target and Home Depot every Sat and Sun from 1-4. Please be sure and call (501-219-9907) before you come to visit her to make sure that she is still there. Tinky has received a complete medical evaluation, alter, all shots, rabies, fecal and worming medication, flea/tick preventative, heartworm preventative, micro-chipping, and grooming. If believe that you might have a permanent place in your life for Tinky, you are invited to send an email to Contact@DogsOnly.org or complete an online adoption application by clicking the orange text links at the top or bottom of this page
If you don't find that special companion you are looking for in the DogsOnly rescue, rehabilitation, and re-home program then please visit Last Chance Arkansas or one of the many other central Arkansas rescue organizations to save a rescued canine companion.