Ana is an adult Anatolian Shepherd/Labrador Retriever mix who was discovered after she was incarcerated in horrendous conditions in an animal shelter in rural Arkansas. With no form of identification to indicate who her guardians had been, she was left to await a grim fate. A simple and inexpensive microchip implant would have easily identified Ana and her owners so that they could have been reunited. Visit www.24petwatch.com for more information about microchip implants. The incidence of stray or abandoned livestock guardian canines like Ana is on the rise in rural communities as more and more livestock farmers use them to guard their flocks.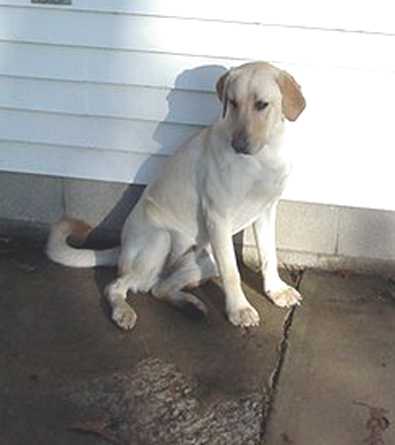 The clock was ticking, but fortunately for Ana, a couple who are no strangers to dog rescue learned of her dilemma and rescued her from a wretched, albeit short, life in that horrific shelter. Very few rural animal shelters have the resource to kennel stray canine companions for very long, and so had it not been for her rescuers Ana would have faced almost certain death. It turns out that despite her ordeal Ana is very easy going and playful. She loves to fetch balls and sticks, and enjoys being petted and spoiled. All Ana needs now is a loving family with a home and fenced yard in which she can run and play, and have the good life she's never known. She is approximately 14 to 16 months old, has been spayed, has received all of her shots and a heartworm test has proved negative.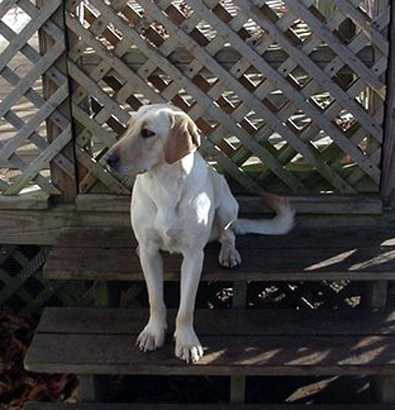 Ana is an independent rescue supported by DogsOnly, and so will not be attending the DogsOnly adoption showings at Petco in west Little Rock, but if you would like to learn more or even meet her you can send an email to her friends and rescuers, Bob and Ursula, at bgorden@ritternet.com. You can also complete an online adoption application by clicking the links at the top or bottom of this page or send an email to contact@dogsonly.org. You application or emails will be sent to Ana's guardians without delay.
If you don't find that special companion you are looking for in the DogsOnly rescue, rehabilitation, and re-home program then please visit Little Rock Animal Services or one of the many other central Arkansas rescue organizations to save a rescued canine companion.