Lucky is a pudgy little male 12 week old 20 pound puppy who is a mix of, most likely, Beagle and Shepherd. Abandoned with his mother and brother, Lucky was fortunate to be rescued by a good Samaritan and taken home where they are being cared for until we can find a new home and family for them. His mother appears to be a 25 pound Beagle, but Lucky will be much bigger when he is full grown, probably between 50 and 60 pounds. At the moment Lucky spends most of his time sleeping, but when he does decide to stretch, yawn, and venture out of his bed he plays well with other puppies and children.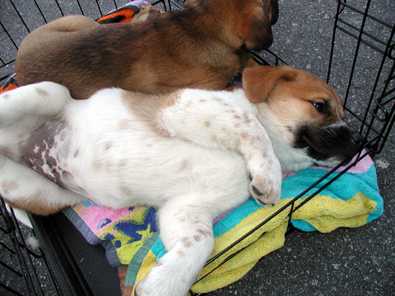 Lucky is an independent rescue supported by DogsOnly. If you would like to learn more about this pudgy little pup you are invited to send an email to Contact@DogsOnly.org or complete an online adoption application by clicking the orange colored text links at the top or bottom of this page. Lucky should be available to meet at most of the DogsOnly adoption showings at Petco in West Little Rock on Chenal Parkway across from Target and Home Depot every Saturday and Sunday from 1-4.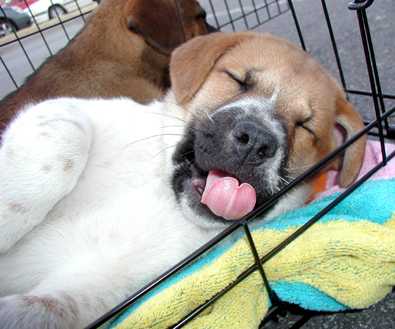 Lucky's adoption includes a fee that covers his medical needs, and a secure fenced yard is a requirement. You should also note that Lucky will not remain a cute little cuddly puppy for long, so if you very small children you should perhaps consider a smaller canine companion who is less likely to play too hard for small children as he grows.

Lucky and brother Husky.
If you don't find that special companion you are looking for in the DogsOnly rescue, rehabilitation, and re-home program then please visit Little Rock Animal Services or one of the many other central Arkansas rescue organizations to save a rescued canine companion.