Buttons is an easy going and affectionate young female Beagle mix. She loves attention, and especially enjoys having her tummy rubbed. She also likes to play tug-a-war with her rope and will fetch. She can play, but calms down easily. Most of all, she likes to be with her family. Buttons is easy to have around, and can get along with both kids and adults, and would make a good companion for an elderly person. Unfortunately, Buttons has grown jealous towards another dog in her home, who is older than she is, and refuses to get along. Something has to give, and so poor Buttons has to move on.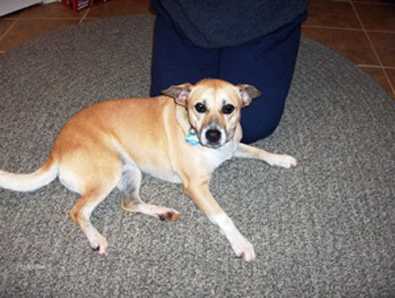 Believe it or not, Buttons sleeps in a small kennel in the kitchen. She does not like cold weather and prefers to be indoors when the temperature drops. She is house trained and knows her basic commands. Buttons is spayed and up-to-date on all her shots. She is negative for heartworms. All in all Buttons is a sweet, easygoing, but playful little dog that would be a great family pet, or companion for an elderly person. She would be ok with small children as well.
Buttons is an independent rescue supported by DogsOnly, and so may not be attending the DogsOnly adoption showings at Petco in west Little Rock. If you would like to learn more or even meet her in person you can send an email to her guardians at lenschmob@sbcglobal.net
You can also complete an online adoption application by clicking the links at the top or bottom of this page or send an email to contact@dogsonly.org. You application or emails will be sent to Buttons' guardians without delay.
If you don't find that special companion you are looking for in the DogsOnly rescue, rehabilitation, and re-home program then please visit Last Chance Arkansas or one of the many other central Arkansas rescue organizations to save a rescued canine companion.