When the Avon lady came calling she didn't expect to find little Weezer, a Dachshund Beagle mix, waiting for her on the doorstep. Her customer explained that the little dog had lived with a neighbor until they moved out 12 days previously when they abandoned poor Weezer. The Avon lady swapped her makeup for the little dog and left. Concerned about the possibility of dehydration and health issues from going so long without food, water, and shelter, Weezer's kind new friend, the Avon lady, took her straight to the vet for a checkup. The vet gave Weezer a complete evaluation and took care of her immediate medical needs. Now what? Clearly Weezer was not up for spending the rest of the day riding around delivering makeup, so the vet placed a phone call to a couple who are known to rescue stray or abandoned canine companions.
Almost before Weezer knew what was happening, she found herself safe and sound in a new foster home with lots of other rescued dogs. Her rescuers set to work right away to try to find Weezer a new home and family and contacted DogsOnly for help in getting the word out. Now it's up to you! Weezer is a small young female Dachshund Beagle mix who has already received all of her shots, has tested negative for heartworm, and has been spayed. She is still a little shy and scared in new situations, but as soon as she feels comfortable she does well with other dogs, and loves to snuggle into your lap. When she's happy, she shows it with a large toothy smile.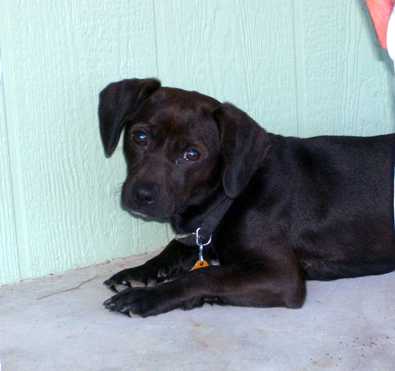 Weezer is an independent rescue supported by DogsOnly, and so will not be attending the DogsOnly adoption showings at Petco in west Little Rock, but if you would like to learn more or even meet her you can send an email to her friends and rescuers, Bob and Ursula, at bgorden@ritternet.com. You can also complete an online adoption application by clicking the links at the top or bottom of this page or send an email to contact@dogsonly.org. You application or emails will be sent to Weezer's guardians without delay.
If you don't find that special companion you are looking for in the DogsOnly rescue, rehabilitation, and re-home program then please visit Last Chance Arkansas or one of the many other central Arkansas rescue organizations to save a rescued canine companion.