Left behind and abandoned when her owners moved away, Rosie was without any food or companionship and probably facing a cruel fate until she was discovered and rescued. Rosie's rescuer took her home, and made sure that Rosie got good food, clean water, medical attention, and all the love and comfort she so desperately needed. In no time at all Rosie was up and about getting to know her foster family and home. We're told that Rosie is a wonderful girl who loves to play fetch and run through the sprinklers on a hot day. She is alert of her surroundings, often alerting you to the common "box turtle" that has entered her domain. Rosie loves attention, her hobbies include lounging on "her bed" and chasing lizards when she outside. She uses a doggie door to come and go as she pleases.
Rosie will do well in a home with another canine companion with whom she can romp and play. She is more comfortable in "her own element", than traveling around to "unfamiliar territory". Rosie would need a fenced in yard, although she is not a fence jumper or digger. Her only reported dislike is that she's not crazy about getting a bath, although she does like the water. Rosie is playful, but not overly hyper. She loves toys and always welcomes someone to play with her.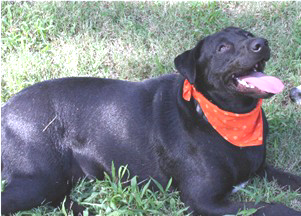 Thanks to the patience and care of her rescuer, Rosie is already house, crate, and leash trained. She is a young adult female Labrador Retriever about 1 ½ years old.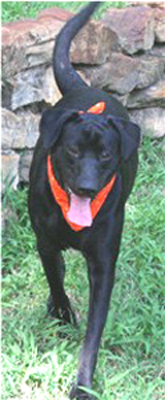 Rosie is an independent rescue supported by DogsOnly, and so will not be attending the DogsOnly adoption showings at Petco in west Little Rock, but if you would like to learn more you can send an email to her guardian and rescuer at thisbirds4you@yahoo.com. You can also complete an online adoption application by clicking the orange colored links at the top or bottom of this pagel or send an email to contact@dogsonly.org. You application or emails will be sent to Rosie's rescuer and guardian without delay.