One of the last places most of us would choose for a place to call home and raise a family is anywhere close to the runway of a major national airport, but that's exactly where Sugar decided to give birth to her litter of puppies. Perhaps because it is a place that most of us would avoid, Sugar decided it would be a safe place for her puppies to survive. Who knows what random act of cruelty directed towards Sugar might have taught her to avoid people, but whatever it may have been, it probably was the start of a tragic journey for poor ol' Sugar. Oblivious to the noise and vibrations of the giant aircraft, Sugar and her puppies made a meager home of a hideaway close to the runway, and they might have survived had Sugar not got an infection in her eye and become sick. Over time as Sugar became weaker and weaker, and as she struggled to feed and care for her babies, the infection in her eye became much worse. Eventually she lost not only her eye, but sadly also her pups. Fortunately for Sugar, and just in the nick of time, she encountered another human, and one who this time rather than display wanton cruelty, decided to direct a random act of kindness and love at her. Too weak to run, Sugar gave in and allowed herself to be rescued. Initially frightened and skittish she was taken into a home where she was introduced to care, comfort, and love. In no time at all Sugar was learning to trust again, and she quickly made a remarkable physical recovery.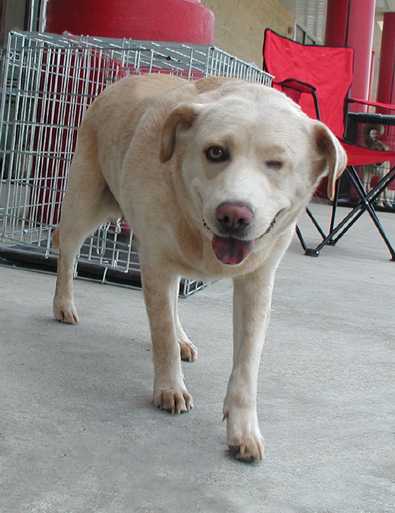 It's said that every dog has their day, and it's high time that Sugar had hers. All she wants is a permanent home and to be part of a loving and caring family. Sugar is a charming Yellow Labrador Retriever mix, who appears to be between 2 and 3 years old and weights about 40 Lbs. If you believe that you can give Sugar the home she deserves you are invited to come and get to know her a little better. Sugar is an independent rescue effort but she may occasionally be available to meet at the DogsOnly adoption showings at Petco in West Little Rock on Chenal Parkway across from Target and Home Depot every Saturday and Sunday from 1-4. Please call or send an email to Contact@DogsOnly.org before coming to visit Sugar so that we can make arrangements for her to be at the showing for you to meet and get to know. You are also invited to click the orange text links at the top or bottom of this page to complete an online adoption application. Sugar's rescuer will be in touch to answer all of your questions about this wonderful canine companion and to help you to decide if you and Sugar are right for each other.
If you don't find that special companion you are looking for in the DogsOnly rescue, rehabilitation, and re-home program then please visit Last Chance Arkansas or one of the many other central Arkansas rescue organizations to save a rescued canine companion.
PLEASE NOTE: ALL ADOPTIONS REQUIRE SECURE FENCING. THIS COMPANION IS NOT SUITABLE AS A WORKING LIVESTOCK GUARDIAN DOG. COMPANION HOMES ONLY PLEASE.