A family of cat lovers discovered Salty when she was a small puppy scavenging her way along the banks of the Saline River in southwestern Arkansas. Even though they had no experience with dogs and no resources or supplies for dogs, they just couldn't walk away and leave poor ol' Salty to suffer and almost certainly die.
Salty was in poor shape, and with mange, fleas, ticks, parasites, and open sores all over her body, she was already in a crisis condition that would almost certainly soon result in her death; the suffering had already begun. Her rescuers were not deterred, and took Salty straight to the vet that they have always used for their cats. With the help and support of their vet and a lot of tenacity and determination they were able to nurse Salty back to health and undoubtedly saved her life.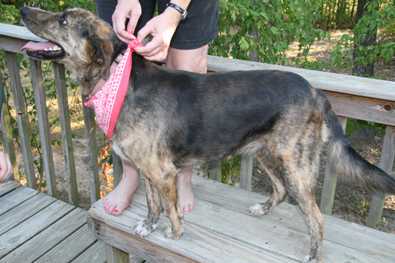 Salty is an adult female German Shepherd Blue Heeler mix, who is now about two and a half years old. After a great deal of love and dedication Salty has emerged as a beautiful canine companion with a friendly and sweet disposition. Salty loves to play all kinds of games, and especially enjoys playing tug of war. She is a loving dog, and even though she is too big for your lap it doesn't stop her from trying to climb into your lap for some love and attention. Her rescuers have two cats. One refuses to have anything to do with Salty, but the younger cat and Salty have an understanding, and they share the back yard without a problem. Salty likes treats and has been eating Iams dog food. She has an insatiable need for attention because she is a real people kind of dog. She's also particular about her bathroom duties and has decided that only the very far back corner of the yard provides suitable amenities. It's not clear if Salty is housebroken because she usually lives outside, but when allowed to sleep inside on cold nights she has been good as gold and has held on until allowed outside for her bathroom break.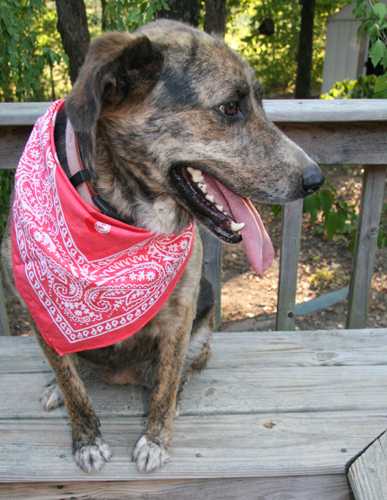 Salty would do well with a family with children ages 10+. She would love the younger ones, but she is too full of energy to be with them. She needs to be with someone who has time to play with her. She loves people and she tends to get along well with other animals, so she would probably do well with a family that already has a dog, provided it's not too much bigger than she is; bigger dogs often intimidate her. Salty has a lot of energy, and while she looks more like a German Shepherd, she has the personality of a hound, sweet and friendly. Given a clean bill of health by her vet, Salty has been on heart worm prevention since she was first rescued.
Salty is an independent rescue supported by DogsOnly, so if you would like to learn more or think you may have a place in your life for this wonderful canine companion you are invited to send an email to her rescuers at finley8686@sbcglobal.net. You can also complete an online adoption application by clicking the orange colored text links at the top or bottom of this page or send an email to contact@dogsonly.org. You application or emails will be sent to Salty's guardians without delay.
PLEASE NOTE: ALL ADOPTIONS REQUIRE SECURE FENCING. THIS COMPANION IS NOT SUITABLE AS A WORKING LIVESTOCK GUARDIAN DOG. COMPANION HOMES ONLY PLEASE.