Hope and Faith have already been down a long hard road in their young lives, but thanks to some hard-working volunteers they are now safe in rescue and looking for their forever home. The girls are full sisters who were bred and registered with the AKC by a 'puppy mill' breeder in Missouri. The sisters were left over, the last of yet another litter of little pups from this puppy mill and so in the interests of improving his bottom line it was decided to sell them off at auction, probably to amateur "back yard" breeders who often continue the mistreatment and abuse. The sisters were taken to the Cabool Livestock Auction in Missouri where an "undercover" volunteer went to try to purchase the girls to get them to rescue and out of the puppy mill circuit. A veterinarian at the puppy mill auction noticed one of the girls suffered from a congenital heart defect, and as a result, interest in bidding for the girls fell off. As a result, our intrepid undercover bidder was easily able to buy the girls freedom, saving them from untold suffering.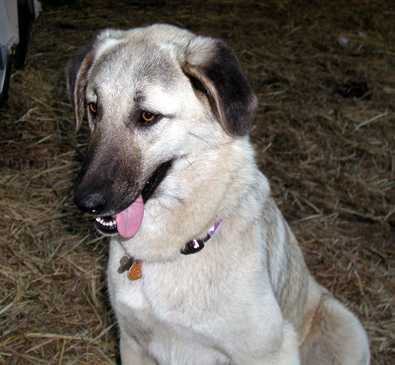 Hope

At the tender age of 12 weeks our pups were taken into the safety of rescue where they stayed together and were taken to a private foster home until they could find an adoptive home. While in foster care, the girls were spayed, micro-chipped and completely vetted. Hope, the girl with the congenital heart defect, was taken to an internal medicine specialist who performed an ultrasound and confirmed the condition. At the time, she was given a grim prognosis of only being able to live another few months, possibly to the age of 6 to12 months. It was even recommended that she not be spayed as they were not sure she would survive anesthesia and would most likely not live long enough to go into a heat cycle. After carefully weighing all the facts, her rescuer decided to risk the spay surgery. If Hope did survive long enough to have a heat cycle, she would not be able to survive a pregnancy anyway, so the risks were greater the longer we waited.
Hope had been diagnosed with a grade 5 to 6 heart defect, and the vet who performed the surgery held his breath through the entire procedure. Miraculously Hope came through her spay with flying colors and made a spectacular recovery. Much to everyone's surprise she was soon ready to be adopted along with her sister Faith.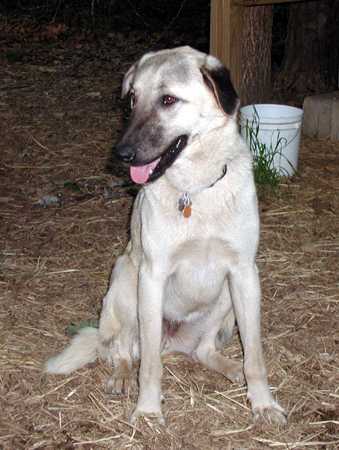 Faith
When you have two beautiful and spectacular canine companions available for adoption like Hope and Faith it doesn't't take long for the prospective adopters to take an interest, and before long there was a family ready to take them into their home. They seemed to have a perfect home for the girls; inside/outside home, secure fencing, pasture land and horses and after a home visit the girls seemed happy. The family was even willing to adopt both girls even though there was no guarantee how long Hope would survive with her heart condition.
Time went by and reports on the girls were always good. Hope and Faith had bonded more than ever, always staying within a few inches of each other. Wherever one girl was, there was her sister right beside her. The pair was inseparable and everything appeared to be as close to perfect as they could wish for. Then one day about 1 1/2 years later, a request came into the rescue group to assess two female sibling Anatolians who had been taken to a vet to be euthanized. We knew immediately that it must be Hope and Faith. The adoptive family had been carefully counseled prior to finalizing the adoption that should there ever be any problems with the girls or if they would ever be unable to care and keep the girls safe that they should return them to rescue, and so we were more than a little surprised that an apparently caring adoptive family had taken them into a vet to be euthanized. It was a miracle that Hope was even still alive and it was decided that we would do whatever it took to get the girls back into safe hands.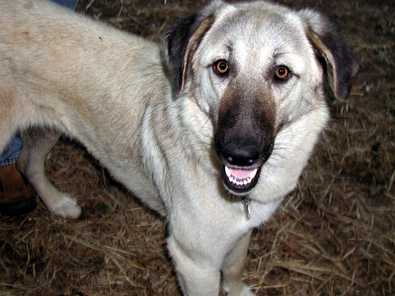 Hope
Thankfully the vet to whom they had been taken to be euthanized advised that in his professional opinion the girls are good candidates to be re-homed, and they there are no reasons whatsoever for them to be killed. It seems the family did not heed the careful advice given to them by rescue and they had allowed them to roam free in their neighborhood. The neighbors were afraid of the girls but purely because of their size and bark. The girls have never been aggressive towards anyone. The girls would get into mischief in the neighbors yards like breaking tomato plants and pulling laundry off the line. The family, who had a very large yard, had decided the girls were "too large" for their back yard and kept the girls with their horses. The horse pen did not have secure dog fencing and periodically, the girls would run with the other area dogs and get into mischief. The adoptive family also did not fully understand the breed and thought the girls were herding dogs which they are not. Anatolians are guardian dogs which is very different than herding dogs. They are both housebroken, get along with other dogs with proper introductions, are experienced with horses, and protective of their property. Hope's heart defect has actually improved to a grade 3 to 4 which can sometimes happen, and currently no meds or treatments are needed. We will only adopt Faith and Hope as a pair.
If you think that you might have a place in your home for these wonderful companions then you are invited to send an email to Contact@DogsOnly.org or click the links at the top or bottom of this page to submit an online adoption application. If you would like to meet the girls in person you can do so at the DogsOnly adoption showings at Petco in West Little Rock on Chenal Parkway across from Target and Home Depot every Saturday and Sunday from 1-4.
PLEASE NOTE: ALL ADOPTIONS REQUIRE SECURE FENCING. THIS DOG IS NOT TRAINED AS A WORKING LIVESTOCK GUARDIAN DOG. THEY WILL ONLY BE ADOPTED AS COMPANION CANNINES.